Greetings from the Dean: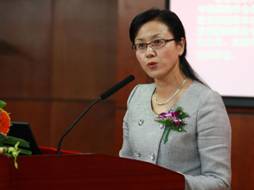 On the occasion of my inauguration of the fifth Dean of the School of Economics, Peking University, I am very glad to share my feelings about this famous school in China. On behalf of the whole school, I would like to extend our warmest welcome to friends from home and abroad.
My friends, what would have happened if there had been no Yan Fu in China's modern history? What would have happened if there had been no Li Dazhao in the history of the Communist Party of China? And what would have happened if there had been no Ma Yinchu in the history of China's economic thought?
I believe that without them, Chinese modern history, especially Chinese economic history would have been rewritten to a certain extent. However, there is no "what if" in real history. We are proud that these great names are closely related to Peking University and its Economics Department which is the predecessor of the School of Economics of Peking University. As the first president of Peking University which was known as the Imperial University of Peking before 1912, Yan Fu established the Economics Department in the first year of his presidency. The establishment of economic discipline in Peking University is the origin of China's academic development of economics. His translation of The Wealth of Nations in 1902 symbolizes the introduction of modern western economics to China. As a professor of the Economics Department of Peking University, Li Dazhao was one of the founders of the Communist Party of China and remarkable character. He struggled along with Mao Zedong and other revolutionary predecessors for the establishment of New China, which has been an inspiring epic for Chinese people. As the eighth president and a professor of the Economics Department, Ma Yinchu upheld truth without fear of any authorities. His New Population Theory clearly predicted the future of New China. His creed that "It is quite easy to say what others have said; it is not very easy to say what others want to say; it is much more difficult to say what others dare not say. I say what others want to say and what they dare not say" not only shows us the perseverance of Chinese intellectuals, but also makes us understand the true nature of "Qu Yuan Spirit"(Qu Yuan was a renowned patriotic poet in ancient China).
People tend to give special attention and praises to the 'firsts' in history that bring welfare and benefits to human beings. As the first institution to establish of China, Peking University has enjoyed such attention and praise. However, the 'first' has not made our economists satisfied or caused them to stand still. The economic discipline of Peking University has a history of over a century. Countless economists have made great contribution to the prosperity and development of economics, the economy and society, and have created countless new 'firsts'. We have many prestigious and influential figures in academe, business and politics. Yan Fu, Li Dazhao and Ma Yinchu were outstanding representatives among them. A comment said that 'there has never been a university which has been related so closely to the fate of the nation and its people as Peking University; similarly, there has never been a university's economics school which has been related so closely to the development of national economic discipline as the School of Economics of Peking University'. This is true and appropriate.
In 1985, the Economics Department of Peking University established the School of Economics of Peking University, and entered a new stage of the economic discipline development of Peking University. In over 20 years, not only have we developed and maintained superiority of our academic traditions and leading disciplines, but also, we have established some new disciplines to adapt to the needs of China's economic development and system changes. In 1998, School of Economics was selected as one of the "National Training Bases of Economics Talents". It was also recently selected as "National Experimental Lab for Innovative Training of Talents" by the Ministry of Education. With the joint efforts of the whole school, as well as the strong supports from the society and all the sections of Peking University, we have made great achievements in research, teaching, faculty development and so on. The School of Economics remains an ideal place to study for top-notch high school students around the country, and for students from other faculties of Peking University. Moreover, it remains an essential think tank for China's policy makers and an important platform for international communication.
Our goal is to cultivate the "outstanding talents" and provide an intellectually nutritious environment for the future prominent scholars, great entrepreneurs, excellent scientists and famous politicians. But more importantly, we should cultivate citizens with good characters. 'Independence, democracy, freedom, skepticism and criticism' is regarded as the essence of Peking University's spirit. There is no doubt that such spirit is a necessary element for one's personality as well as an engine for innovation and creation. We hope that our students can study here with independence, innovation and skepticism in mind, and fully develop their abilities to survive, to adapt and to self-develop. We hope that our students will become excellent graduates who have 'solid foundation, broad horizon, high quality, strong ability, and good manner'. We hope that our students will become such PKU people that have remarkable EQ, outstanding IQ and the great courage to take responsibilities.
Under new and complicated environments inside and outside China, there are many major economic problems for us to solve. As the new generation of SEPKU people whose destiny is to maintain good tradition and continue the glory, we are fully aware of our responsibilities and challenges. With continuously improving facilities, dedicated faculty and staff and energetic students, we have enough courage, ability and wisdom to assume the responsibilities.

Professor SUN Qixiang
Dean of School of Economics Peking University