On 15th June, the series lectures on "China's Economy in the Eyes of Foreign Ambassador to China" held in School of Economics Peking University. Mr Stanley Loh, the Ambassador of Singapore to China delivered a speech entitled "The Survival of a Small State".
At the beginning of the speech, Prof. Sun Qixiang, Dean of SEPKU, welcomed Ambassador Stanley Loh. Dean Sun mentioned that this year marked the 40th anniversary of China's reform and opening up policy, and also the 40th anniversary of Deng Xiaoping's visit to Singapore. China and Singapore were friendly neighbours with a long history of amicable exchanges. There were increasing political mutual trust and deepening practical cooperation between the two countries. The education cooperation between China and Singapore has been an important driving force for the people-to-people exchanges and the overall bilateral relationship. Peking University and Nanyang Business School launched the Double Masters Program this year, underscoring unremitting efforts to strengthen the education cooperation between the two sides. China and Singapore were facing historic opportunities of cooperation. The economic ties were further strengthened by the "one belt and one road" initiative, thus the two sides must uphold multilateralism and the free trade talks, oppose protectionism, build an open world economy and rejecting self-centered policies, and foster a more open, inclusive and balanced economic globalization that benefits all.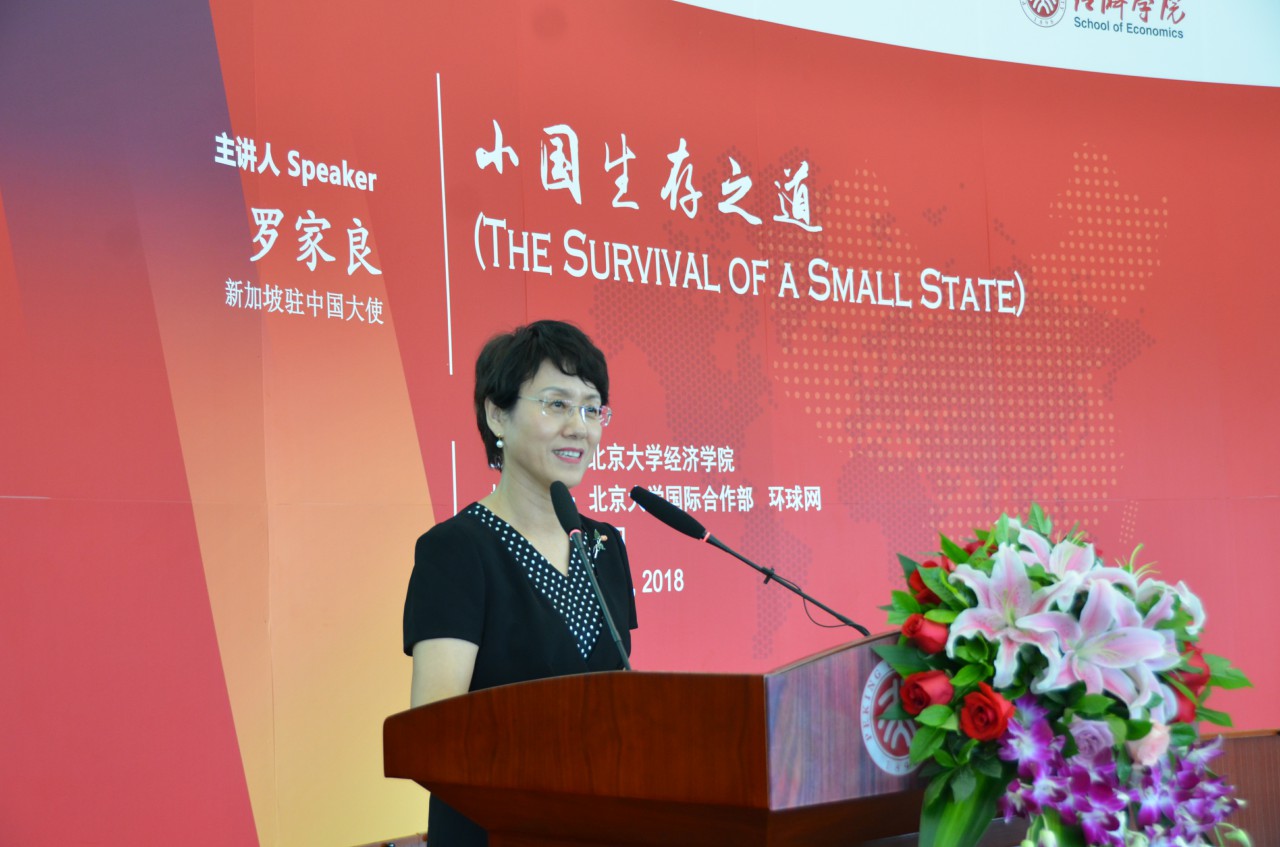 Subsequently, Ambassador Stanley Loh delivered a keynote speech. He gave a brief introduction of the history of Singapore, and explained the fundamental principles of Singapore's foreign policy by relating a few anecdotes on Singapore's relations with key partners. Then, Ambassador Loh talked about the development of China-Singapore relations. He pointed out that 75% of Singapore's population were comprised of descendants of immigrants from China and the two countries enjoyed a long history of deep connections. After Prime Minister Lee Kuan Yew visited China in 1976 and Mr Deng Xiaoping visited Singapore in 1978, the relationship between China and Singapore had entered a new era. The large-scale Government-to-Government projects in the form of the Suzhou Industrial Park, Tianjin EcoCity and Chongqing Connectivity Initiative indicated deepening practical cooperation between the two countries. At last, Ambassador Loh concluded that Singapore must continue to be consistent and principled in order to ensure the long-term survival. Relations between states must be conducted based on the principle of equality among states, rule of law, mutual respect and mutual benefit. As President Xi said, Singapore and China shared a demonstrative, strategic and forward-looking relationship, and China-Singapore relations would be one of a unique partnership between a large country and a small country.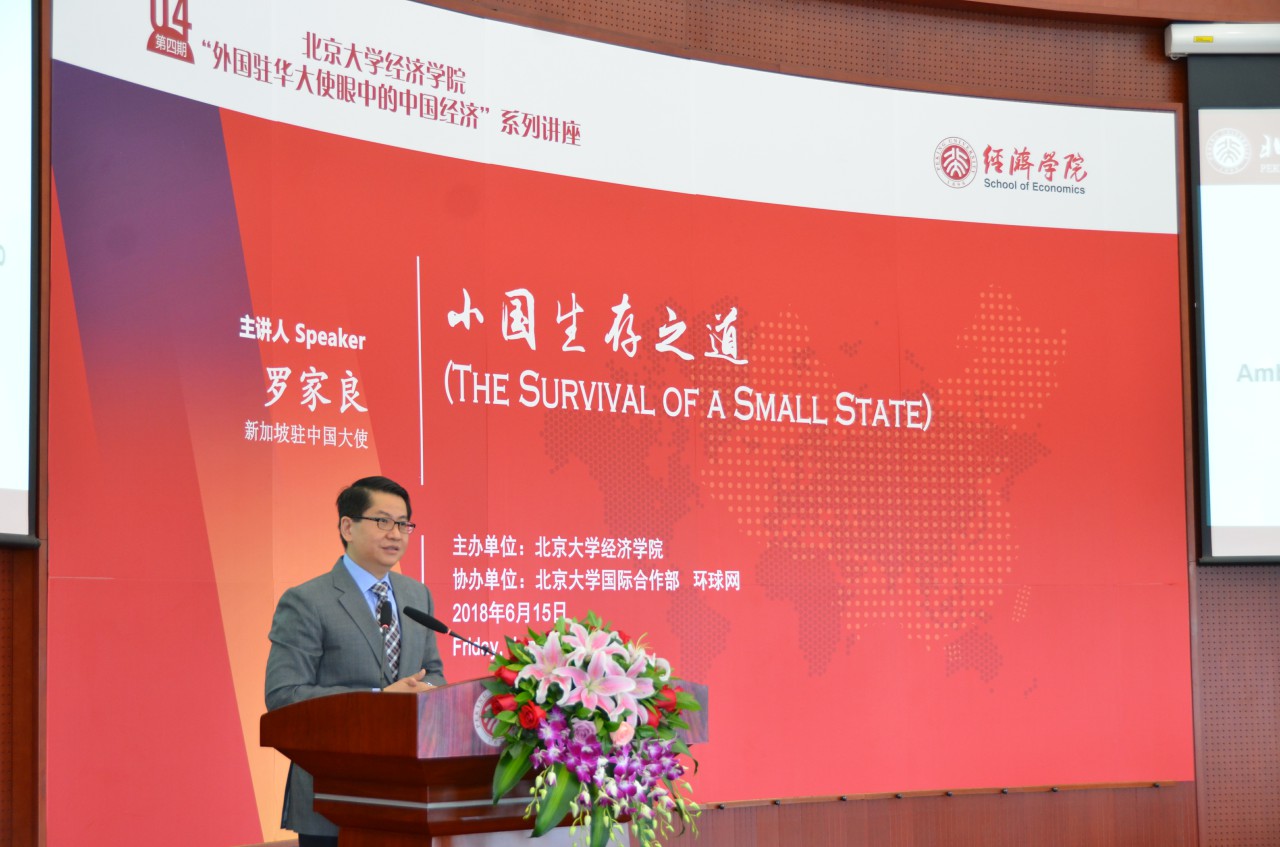 After the speech, the teachers and students asked questions regarding fertility rate management, anti-corruption and government management, the survival principal for small state and large country and so on. Ambassador Loh answered these questions patiently. He also stressed that Singapore sought to be friends with everyone and made enemies of no one, nor would they wish to choose sides or be caught in proxy battles among major powers. Singapore would be a reliable, credible and consistent partner to China, as well as making contribution to world peace and development.
Finally, Dean Sun Qixiang presented to the Ambassador a Certificate of Honor for the series lecture of "The Chinese Economy in the Eyes of Foreign Ambassadors to China".
Before the speech, Professor Tian Gang, Vice President of Peking University, Professor Sun Qixiang, Dean of SEPKU and Professor Qin Xuezheng, Assistant Dean of SEPKU greeted the guest.
Biographical Summary:
Mr. Stanley Loh has been Ambassador of the Republic of Singapore to the People's Republic of China since 12 March 2012.
Mr. Stanley Loh graduated from the National University of Singapore with First Class Honours in Economics in 1995 under a Singapore Government Scholarship. In 2003, Mr. Stanley Loh attended the Sloan Masters Programme at Stanford University in California, USA, and graduated with a Masters of Science in Management.
Mr. Stanley Loh joined the Singapore Civil Service`s Administrative Service in 1995. In 2000, he became Deputy Chief of Mission at the Singapore Embassy to the USA. In 2004, Mr. Stanley Loh became Press Secretary to Prime Minister and later Senior Minister Goh Chok Tong. In 2005, Mr. Stanley Loh was concurrently appointed as Director-General for the Middle East in the Ministry of Foreign Affairs. In 2015, he was conferred the Public Administration Medal (Gold) by Singapore President Tony Tan.